Victoria Chair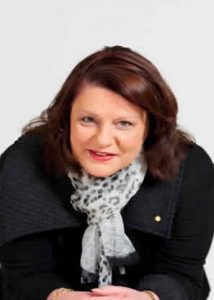 Helene Bender AM has extensive board experience as Chair, Deputy Chair, Board and Committee member in the areas of business, education including tertiary, health including dental, tourism, events and multi-million dollar fundraising for health infrastructure and sporting facilities plus involvement in numerous not-for-profit community organisations.
Boards include Barwon Health Foundation Chair, Committee for Geelong Founding Director and Deputy Chair, Deakin University including Deputy Chancellor, Dental Health Victoria, Geelong Cats Sports Foundation Chair, Geelong Football Club including inaugural Chair of Nine Lives Geelong, Geelong Cemeteries Trust including Chair of Audit & Risk committee , Geelong Grammar School Council and Tourism Victoria.
Current Not-for-profits include Geelong Region Cancerians, Lions Club of Geelong and St John of God Geelong Hospital
2006 Order of Australia recipient for service to the community of Geelong, particularly through business and commerce, regional development, local government and tourism organisations.
Order of Australia Association Barwon Regional Group Secretary since 2013, VIC Branch committee member since 2016, National Board Nominated Director (VIC) 2017 and National Membership Director since May 2018
Victoria Branch of the Order of Australia Association has excellent Regional Groups who are committed to growing nominations, increasing membership and retaining members. My aim is to work with the Regional Groups ensuring diversity of nominations including age, gender and culture. The Victoria Branch committee also welcomes feedback from members regarding Branch events.
I thank previous Victoria Branch Chairs for building a solid foundation.
Current and past Chairs of the Victorian Branch of the Order of Australia Association
2018 – Current: Helene Bender AM
2017 – 2018: Diane James AM
2015 – 2017: Paul Wheelton AM
2011 – 2015: David Mann AM
2008 – 2011: Don Hyde AM
2006 – 2008: Geoff Neilson AM
2003 – 2006: John Wertheimer AM
2001 – 2003: Prue Gillis AM
1998 – 2001: Ian Perdriau AM
1995 -1998: Diana Jones AM
1993 -1995: Anne Scott OAM
1991 – 1993 Geoff Stevens
1988 – 1991 Ian Vassie
1986 – 1988 Capt Charles Flaherty
1984 – 1986 Major – Gen John Stevenson
1977 – 1984 Major – Gen Jock McNeill
To read Immediate Past Chair Diane James AM profile please click here
To read Past Chairman Paul Wheelton's AM profile please click here