Newsletters and Publications
[email protected] – Secretary – 26B Albemarle Street, Scarborough W A 6019 for correspondence and for any financial correspondence, the Treasurer: P O Box 477, West Perth W A 6872
Telephone: Hon. Sec. Margaret Lobo 0418 865 313
Number 1 of 2023
The WA Branch honours His Majesty the King, Charles III, Sovereign head of The Order of Australia and anticipates his Coronation in May 2023
Annual General Meeting and Brunch
Matilda Bay Restaurant
Sunday 16th February 10.00 am.
RSVP 14th February – booking form attached or ring our Chairman, Bettine Heathcote on 0407 195 040.
This will as usual be a pleasant way to conduct an AGM at a superb venue overlooking the Swan River.
DIARY OF WA BRANCH EVENTS IN THE MONTHS AHEAD
Date/time

Details of event

Booking details and contact

9 March 2023

6:30 p.m.

Reception for Australia Day Honours recipients

Civic Centre, Melville City Council, 10 Almondbury Road, Booragoon

Invitations to be issued soon.

RSVP will be strictly 27 February.

TBA

April

Morning tea and talk:

"Swimming with Whale Sharks"

Dr Brad Norman, AM

TBA

18-21 May 2023

National Conference, Geelong, Victoria

See further details below

18 June 2023

Order of Australia, WA Branch

Ecumenical Evensong, St George's Cathedral, Perth

Further details to follow

9 August 2023

King's Birthday Honours List reception

Wanneroo Civic Centre

Details TBA

20 September 2023

OAAWA Annual formal dinner

Royal Perth Golf Club

Details TBA

17 October 2023

Talk by Maj Gen Barry Nunn AO

"Catalinas in Crawley"

At RAAFA, Booragoon, with visit to the aircraft museum

Details TBA

7 December 2023

OAAWA Christmas lunch

Fremantle Sailing Club

Details TBA

There will be regional events during the year

Possible group event

A suggestion has been made that members may be interested in a Group booking to see a production by our own Jenny Davis AM Theatre 180 of a special adaptation of Albert Facey's "A Fortunate Life" at the Windsor Theatre followed by, for those who wish, lunch at a nearby restaurant.  This is a play with 3 actors with a filmed background which will make for a most interesting performance.  Tickets are available for a Group booking at $38 each for 10 or 20 people.  There is a session at 11.00 am on Friday 12th May for which tickets are still available.  Please advise Bettine Heathcote on

9409 9626 by 18th February if you are interested in attending this performance.  If there is sufficient interest a block reservation will be made.
Police Patron Scheme
As you may know the Police Patron Scheme, through which members of OAAWA become mentors of young police recruits during their training at the Police Academy of WA, is our premier volunteer community service.
It is the vehicle by which some of our members choose to continue their service to Western Australia post their awards in the Order of Australia.
It is service of value to the police cadets, and it is service valued by the Commissioner and the WA Police.
Our Coordinator, Michael Bleus OAM will be calling for volunteers to take up the role of Patrons for 13 Squads undergoing training at the Academy in Joondalup.  For more information about this opportunity and/or to volunteer please call Michael on 0450 603 643.
Don't be intimidated by the thought of what is involved.
Proper training is provided to our volunteers and they all find it most rewarding.
Pictures of the Annual Patrons lunch held at the Academy are below.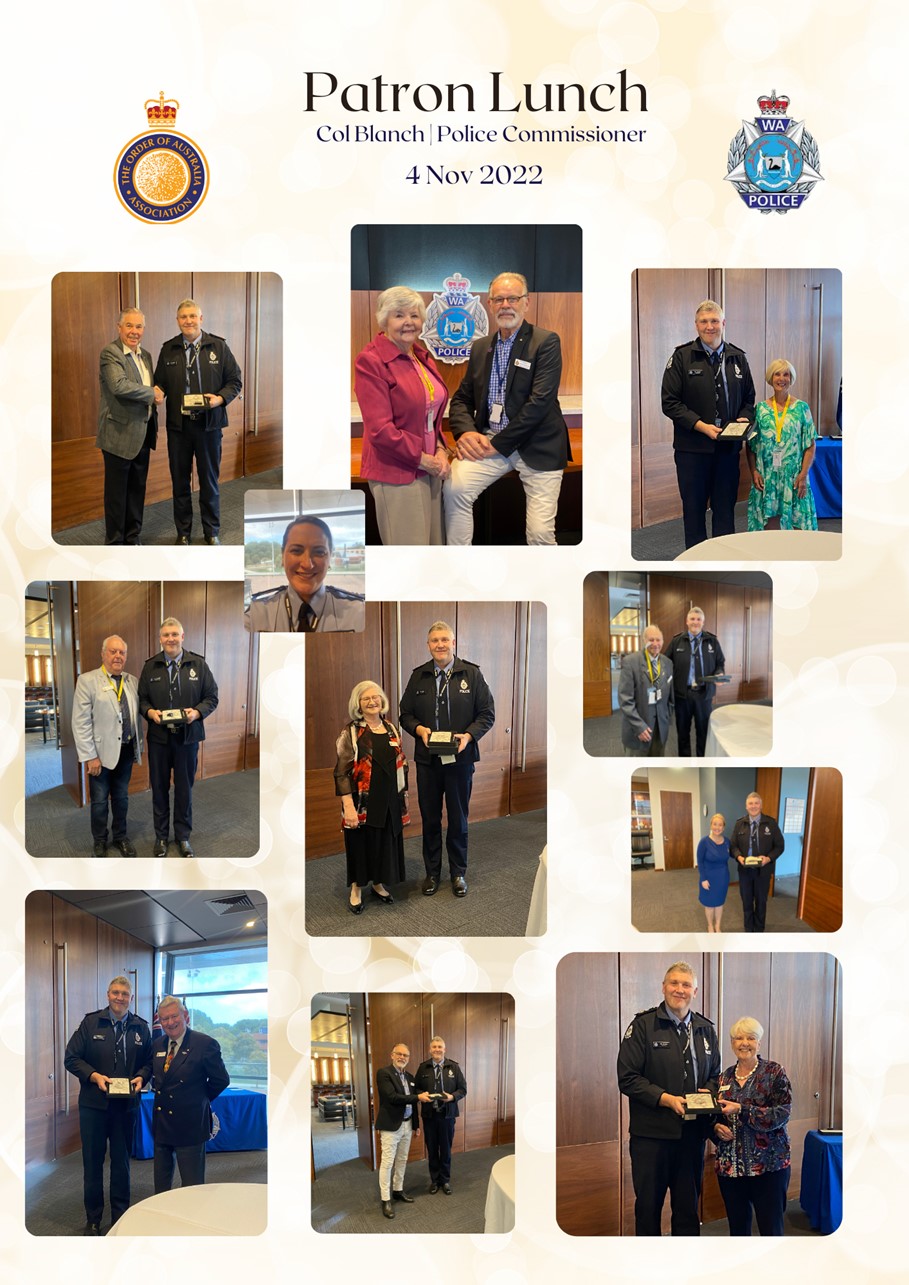 Order of Australia Association, National Conference 2023
18 to 21 May 2023, Geelong, Victoria
For all details go to https://theorderofaustralia.asn.au/national-conference-2023/ 
All members of the WA Branch are eligible to attend and will be welcome to do so. It is a satisfying experience as much of the activity is not formal but of interest and participatory.
Order of Australia Association, National Conference 2024
In Perth, Western Australia!
We will be having a promotional stand at this year's Conference in Geelong to encourage members from the other side of the country to take the long trek to Perth for our 2024 Conference.  It is hoped there will be a good number of WA members in Geelong who have done this in reverse who can assist in this promotion.   I am pleased to report that the WA Branch has raised sufficient money to fund one of the several Scholarships which will be offered in 2024. Plans are well in hand for the Perth Conference which will be held at the Hyatt Hotel from 16th – 19th May 2024.
A couple of photographs form the Great Southern events in Albany late last year – from our own fine photographer, Jackie Scurlock: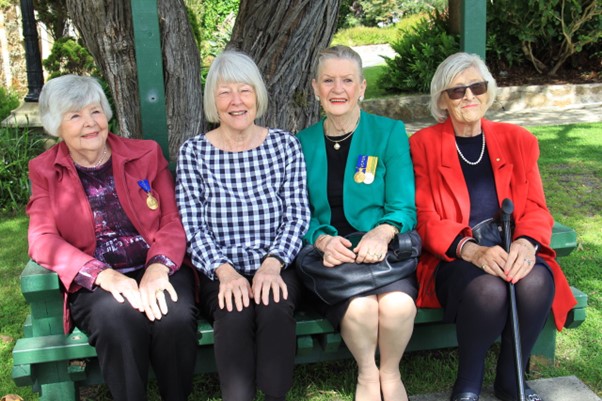 Stalwarts if any are of the WA Branch!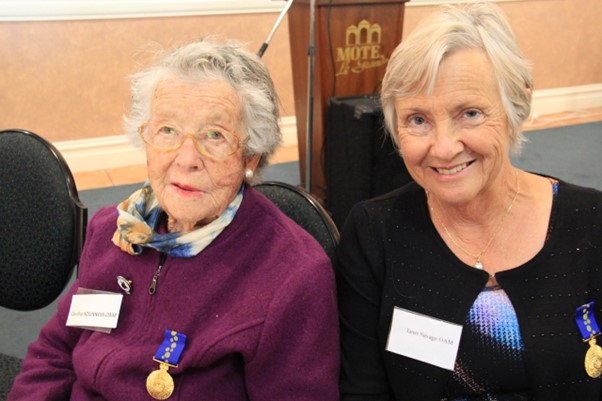 Cecilia Sounness OAM who has just turned 100 and Janet Savage OAM, JP, Great Southern Convenor
Your 2022-2023 Committee
| | |
| --- | --- |
| Chairman | Bettine Heathcote, AM |
| Secretary | Margaret Lobo, AM |
| Treasurer | Michael Lee, OAM |
| WA Nominated National Board Director | Clive Robartson AM |
| Committee persons | Michael Bleus, OAM |
|   | Geoff Cattach, AM |
|   | Lorraine Hammond, AM |
|   | Bill Hassell, AM, JP |
|   | Brad Norman, AM |
|   | Jackie Scurlock, OAM |
|   | Rebecca Tolstoy, AM |
| Great Southern Group of the WA Branch Convenor | Janet Savage, OAM, JP |
| South West Group of the WA Branch Convenor | Hon Barry House, AM |
| Mandurah Group of the WA Branch Convenor | Marion Blair OAM |
Newsletter editor
For input and material, please send to Bill Hassell, AM, JP – [email protected]
Best wishes,
Bettine Heathcote, AM
Chairman,
The Order of Australia Association, WA Branch.
0407 195 040