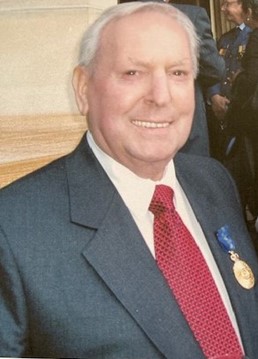 The Reverend Dr Geoffrey T. Glassock AM FAPS
Geoffrey's Citation for his AM in 2010 reads For Service to national and international communities through the development of programs and services to assist people experiencing grief and bereavement and to the Anglican Church of Australia.
Geoffrey grew up in London during the Second World War and at the outset of the war was evacuated with his sister for a few months to Henley on Thames.  They returned to London as the Battle of Britain began. Schooling was frequently interrupted due to unexploded bombs in the playground or other bomb damage.  Daily school assemblies were times when the names of students were who were either killed in the latest blitz or still missing. He learned early in life to live with unpredictability!!
After the war in 1948 his parents decided to migrate to Australia –. They arrived in Melbourne in July 1948 and went to Heathcote a country town in Victoria– a culture shock to say the least!!
The family moved to Melbourne and he worked in the State Savings Bank until in 1952 did National Service in the RAN.
In 1954, Geoffrey trained for the Anglican priesthood which is where he met his wife Valerie then completing a Dip Ed and one of a group of Melbourne University graduates who taught the 6 students who needed to complete the Leaving Certificate before theological training
They were married in April 1958 and he was ordained a Priest in 1959. His son Andrew was born that year and Stephen in 1960 and in September of that year the family left for the UK. Through an uncle Geoffrey's family found themselves in the parish of Merrow in Surrey. The Rector's brother was private Secretary to the Queen so they received an invitation to a Palace Garden Party.
Going back to preach at the church Geoffrey grew up in led to an Exchange with a priest from the Episcopal Church in Detroit in 1968. It was a university church on Wayne State Campus where he completed a Master's degree in Guidance and Counselling.
Geoffrey and his family returned to Australia on the Oriana with an American son David. It was on this voyage that his introduction to Rotary began. A member of the Rotary club of Corio invited him to attend as the parish to which he was going was to in Geelong. He attended a number of meetings as a visitor but did not join. Being responsible for 3 churches in a predominantly housing commission area and 3 young boys meant time and economics it wasn't practicable.
In 1968  a move to Melbourne to become Chaplain to RMIT and Chaplain to the Chinese Church where we established an International Students Centre.
1971 the he arrived in Sydney to become Education and Training Officer for what was the Family Life Movement. Having trained as a Marriage Counsellor in Geelong he was now training others.
In 1974 the NSW Education Department introduced Personal Development and Goeffrey was invited to join the staff of Sydney Teachers College as the lecturer responsible for the new program.
In 1979 he was selected as a Kellogg Foundation Fellow and had 6 months in the USA studying Health Education and Health Promotion
During this time, he became involved with Rotary again at North Sydney but the changes to the teaching timetable and pressure of work it was not possible to continue.
In 1977 the Granville train accident revealed that Emergency Service personnel were ill equipped to manage traumatic events and major disasters. With Professor Beverley Raphael they began what became the National Association for Loss and Grief where in time he became the National President. Organising National and International conferences were part of the role leading Geoffrey to be the first Australian to join the International Work Group on Death Dying and Bereavement.
With the outbreak of the HIV/AIDS epidemic the diocese developed a ministry to the Gay community and their partners and he became involved in the International Pastoral Care Group. This led his involvement with Wola Nani in Cape Town an AIDS organisation of the Anglican Church in South Africa and the Lighthouse in the UK
In the midst of these activities Geoffrey completed a MA (Hons) at Macquarie, a Doctorate of Ministry at the San Francisco Theological Seminary and in 2011 a PhD at UNE, Armidale, and a Mediation Certificate from Bond University.
The combination of his work nationally and internationally with the Anglican Church and in the area of Grief and Bereavement led to him being awarded the Order of Australia (AM) in 2010
A move to the Blue Mountains in 2013 and meeting 2 members of The Springwood Rotary club led to him joining in late 2013.  In 2016 he became International Director and then Community Services Director. At a district level Geoffrey is one of two Conflict Management Officers.
Geoffrey is now the Membership Officer for The Order of Australia Association, NSW Branch.
Dr Geoffrey Glasssock AM, FAPS, Membership Officer, The Order of Australia NSW Branch