YOUTH COMMUNITY SERVICE AWARD 2023
The Youth Community Service Award is conducted annually by the NSW Branch of the Order of Australia Association and was again offered in 2022.  The Award recognises community service by individual students that would not normally be recognised by their school systems, which usually reward academic, sporting and leadership achievements. Nominations were sought from 954 NSW High School Principals whose schools offer the NSW HSC (Higher School Certificate) or IB (International Baccalaureate) programs.
Invitations to nominate a student online were emailed to Principals in April, with a closing date of June 2.  The nomination form can be accessed here .
Nominations are considered by a judging panel of 3 Order of Australia recipients and 25 selected and recommended for the Award.  Certificates of Commendation in recognition of their service were presented at their respective school award ceremonies to nominees who were not selected.
History
This Award, convened by Dr Frank Kelleher OAM, recognises the significant service performed by students beyond their school boundaries in the wider community. Communities served by past Awardees range from local to state, national or international.  The Award was initiated in 1992 by Dr John Lincoln AM and first offered in 1993.  It has been offered each year (except 2020 – Covid) since then.  It was renamed the John Lincoln Youth Community Service Award on his passing in 2012 but reverted to its original title of Youth Community Service Award in 2019.
Presentation of Awards
Twenty-six nominees were recommended to receive the Award in a ceremony at NSW Government House on September 7. Awards, comprising a trophy and Commendation Certificate, were presented individually to each recipient by Her Excellency the Honourable Margaret Beazley AC KC, Governor of New South Wales.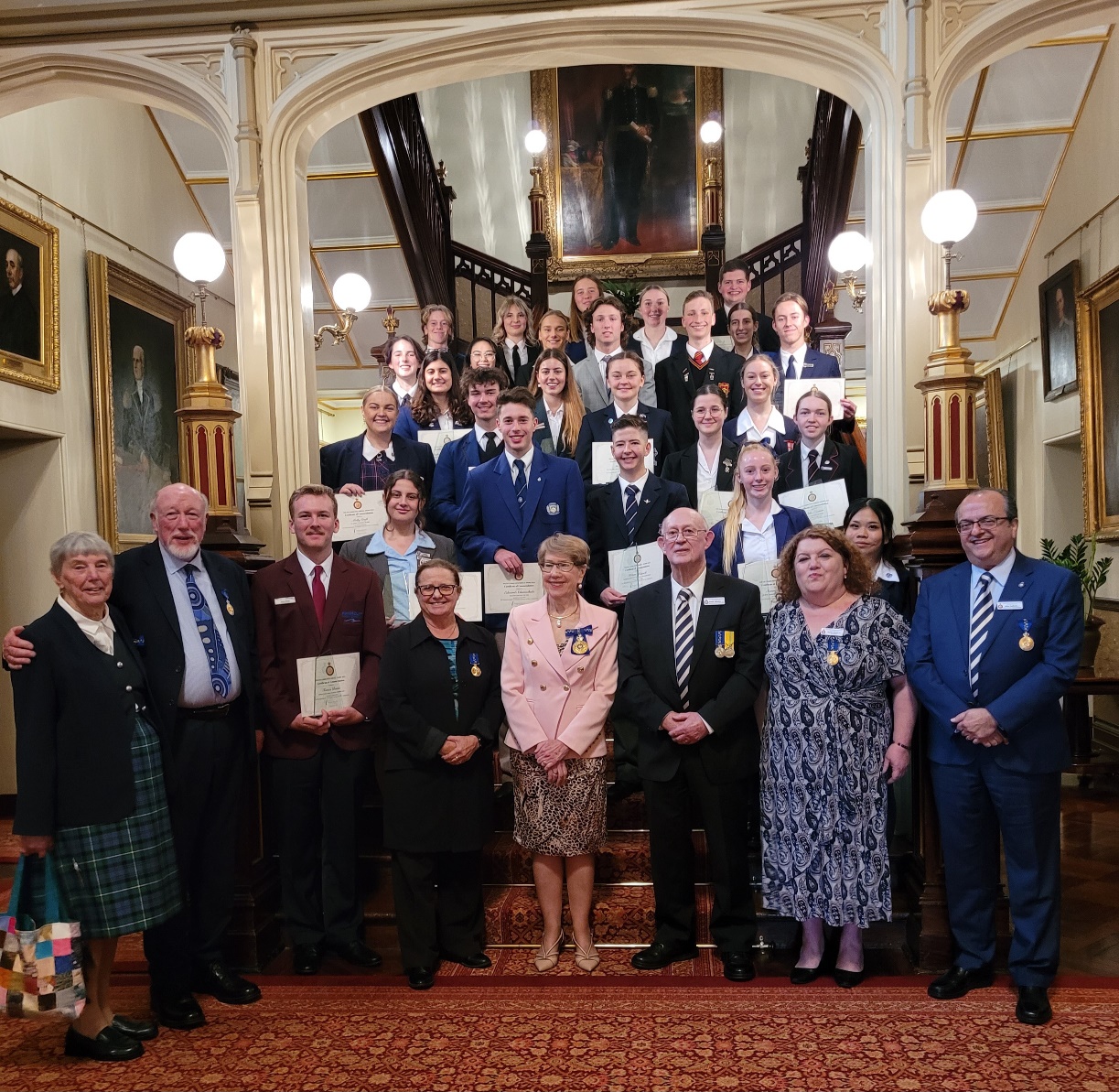 2023 Awardees
Sienna Arena-Milne – Northholm Grammar School; Avery Benbow – Loreto Normanhurst; Tomas Bowie – Kingscliff High School; Ruby Bron – Santa Sabina College; Erica Chau – Freeman Catholic College; Adie Connor – Queenwood; Molly Croft – St Johns College; Milly Dunbar – St Columba Anglican School; Dylan Farr – Knox Grammar School; Zane Fingleson – GOAL College; Sienna Hansen – Gilroy Catholic College; Kohen Hiscock – Penrith Christian School; Amber Hogan – Northern Beaches Mackellar Campus; Isabelle Jaffrey – Loreto Kirribilli; Laila Jenkins – Freshwater Senior Campus; Joshua Judd – St Edwards College; Abby Keeley – Irrawang High School; Archibald Kingham – Marist College; Samuel Lawrence – Camden High School; Ella Maryska – Northern Beaches Manly Campus; Lachlan Middlemiss – St Phillips Christian College Gosford; Paige O'Connor – Penrith Selective High School; Aster Saleem – Mary McKillop College; Edward Schamschula – Masada College; Isabelle Stapf-Giannakis – Northern Beaches Manly Campus; Ella Whitall – Ulladulla High School. 
Community Service
A summary of community service performed by Awardees for the years 2017 to 2022 has been summarised as follows :
 Campaigning and Fundraising for:
Program and resource support, (often including in-country service) for schools and communities in Fiji, Kenya, Tanzania, Iraq, Haiti, Papua New Guinea, Cambodia, Samoa, Thailand, Laos, Bali, Uganda, Israel, the Solomon Islands and Timor Leste.
Construction and development of facilities, resource, and educational support of remote Australian indigenous communities.
School and university scholarships in Papua New Guinea, Timor Leste and other Asian, African and South Pacific countries
Organisations including Zonta International, St Vincent de Paul, Red Cross, Cancer Council, Respite Care services, Prisoner Aid groups, Church Outreach Support Programs, Care for the Aged, Rural Fire Service, Bushfire, Drought and Flood Relief, Dementia Awareness and Support, Legacy, Can Assist, Headspace Youth Reference Groups, Relay for Life, 40 Hour Famine, Clean-up Australia, Surf Lifesaving, Leukemia Foundation, Redkite, Salvation Army Appeals, RU OK and Youth Leadership programs, Local Government, Youth Sport Engagement, Mental Health Forums,  Domestic Violence Victim Support, Reconciliation and NAIDOC Week, Human and Indigenous Rights, Youth Pride and Inclusion initiatives, and a range of Environmental and Climate Change activities.
 Mentoring :
disadvantaged and disengaged youth in local communities
inclusion initiatives within indigenous, refugee, and other disadvantaged youth incentive programs, including education and involvement in Local Government youth advisory committees
tutoring indigenous, disadvantaged, autistic, special needs, refugee, and immigrant children
Volunteering:
active promotion and participation in programs such as Zonta International, which uses donated essentials to create and deliver birthing packages to women in remote regions and poorly resourced regions throughout the world
Aged care voluntary work and support programs
multicultural development programs – promoting inclusion and engagement in community programs and welfare support, recognition, and support of multicultural and cross-cultural initiatives in communities
disaster relief programs and activities through service with emergency services organisations such as SES and RFS in support of fire, flood and drought-affected farmers, families, and communities
community youth leadership programs – initiation, engagement, and support for disengaged and disadvantaged youth
promotion, participation and support programs for Women's Shelters and refuge centres, providing victim support and participation in education programs against domestic violence
prisoner and victim support groups – fund raising, publicity and donation appeals – clothing, food, other essentials such as birthing packages for female prisoners
campaigning against racism and discrimination in local communities
performing arts education and community radio
involvement in wide ranging community health initiatives such as Mental Health Awareness and Suicide Prevention Programs
campaigning for environmental awareness initiatives and action for climate change at local, state and national levels
Introduction of tactile banknotes for the visually impaired
campaigning for acceptance and advocacy for inclusion of immigrants and refugees
service learning for development, representation at Local, National, and international workshops and conferences
coaching disadvantaged, disabled, refugee and low-income youth across a range of sports and physical activities including wheelchair Rugby, tennis, athletics and surfing