YOUTH COMMUNITY SERVICE AWARD 2022
The Youth Community Service Award is conducted annually by the NSW Branch of the Order of Australia Association, and is again offered in 2022.  Nominations for the Award are sought from 1,017 High School Principals in April-May, to recognise community service by individual students which would not normally be recognised by their school systems. School awards usually recognise academic achievements, sporting prowess and demonstrated leadership within their school communities. 
History
This Award, convened by Dr Frank Kelleher OAM, recognises the significant service performed by students beyond their school boundaries in the wider community, which may be local, state, national or international.  The Award was initiated in 1992 by Dr John Lincoln AM and first offered in 1993.  It has been offered each year (except 2020) since then.  It was renamed the John Lincoln Youth Community Service Award on his passing in 2012 but reverted to its original title of Youth Community Service Award in 2019.
Presentation of Awards
Normally, the Award is personally presented to each recipient by the Governor of NSW, Her Excellency, The Honourable Margaret Beazley AC QC at a ceremony held at NSW Government House each year. The 2021 ceremony, however, had to be conducted via Zoom with, Awardees receiving a trophy and Commendation Certificate via registered Post. These were displayed by recipients during their individual presentations by Her Excellency in the virtual ceremony on September 2.
Nomination
Principals are invited to nominate one senior (year 11 or 12) student per school. In some cases, 2 are nominated, where the nominees are engaged in different service initiatives. The nomination process is entirely online and can be accessed here   Nominations are considered  by a judging panel of 3 Order of Australia Award recipients to select the 25 Awardees for each year. 
2021 Awardees from Zoom Ceremony with Her Excellency the Governor of NSW.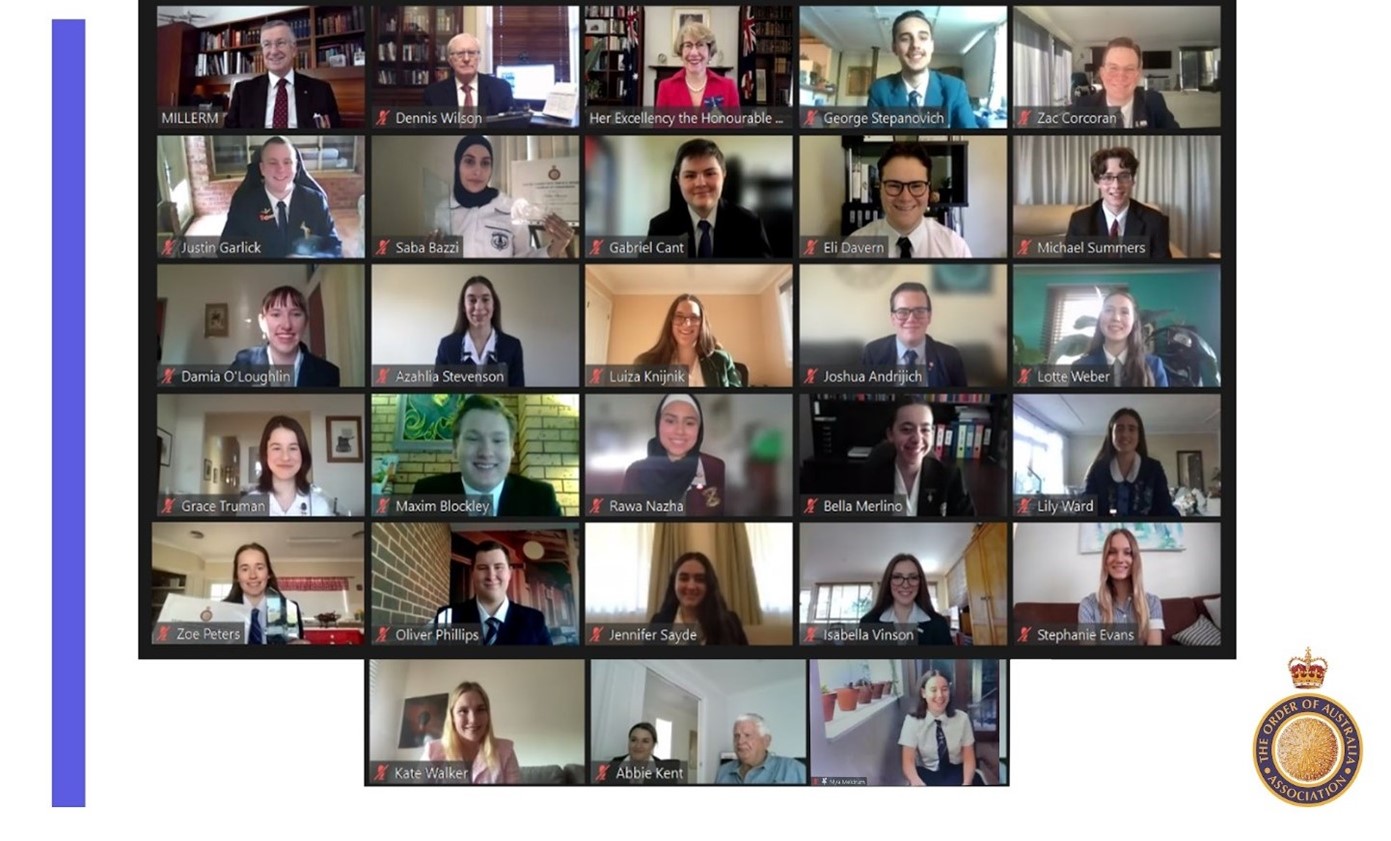 Students honoured with the 2021 Youth Community Service Award were :
Joshua ANDRIJICH, Wyndham College, Quakers Hill; Saba BAZZI,  Al Zahra College, Arncliffe; Maxim BLOCKLEY,  Corowa High School, Corowa; Gabriel CANT, Penrith Selective High School, Penrith; Zac CORCORAN, Snowy Mountains Grammar School, Jindabyne; Eli DAVERN, Xavier High School, Albury; Luiza DORFMAN-KNIJNIK, Caringbah High School, Caringbah; Stephanie EVANS, Northern Beaches Secondary College, Manly Campus; Justin GARLICK, Hennessy Catholic College, Young; Abbie KENT, Warialda High School, Warialda; Mya MELDRUM, Wenona School, North Sydney; Bella MERLINO, Santa Sabina College, Strathfield; Rawa NAZHA, Birrong Girls High School, Birrong; Damia O'LOUGHLIN, Carroll College, Broulee; Zoe PETERS, Denison College, Bathurst High Campus, Bathurst; Oliver PHILLIPS, Junee High School, Junee; Jennifer SAYDE,  St Charbel's College, Punchbowl; George STEPANOVICH, Galston High School, Galston; Azahlia STEVENSON, Caroline Chisholm College, Glenmore Park; Michael SUMMERS, Marist College Eastwood, Eastwood; Grace TRUMAN, International Grammar School, Ultimo; Isabella VINSON, Ulladulla High School, Ulladulla; Kate WALKER, Bradfield Senior College, Sydney; Lily WARD, Monte San Angelo College, North Sydney; Lotte WEBER, Katoomba High School, Katoomba.
Certificates of Commendation were mailed to the Principals of the remaining 37 nominees, in recognition of the community service highlighted in their nominations, for presentation at school award ceremonies.
Community Service
Community service by Awardees is wide-ranging, and that recognised by the Awards in 2017, 2018, 2019 and 2021 can be summarised as follows :
 Fundraising for :
Program and resource support, (often including in-country service) for schools and communities in Fiji, Kenya, Tanzania, Iraq, Haiti, Papua New Guinea, Cambodia, Samoa, Thailand, Laos, Bali, Uganda, Israel, the Solomon Islands and Timor Leste;
Construction and development of facilities, resource and educational support of remote Australian indigenous communities.
School and university scholarships in Papua New Guinea, Timor Leste and other Asian, African and South Pacific countries
Organisations including Zonta International, St Vincent de Paul, Red Cross, Cancer Council, Respite Care services, Prisoner Aid groups, Church Outreach Support Programs, Care for the Aged, Rural Fire Service, Bushfire, Drought and Flood Relief, Dementia Awareness and Support, Legacy, Can Assist, Headspace Youth Reference Groups, Relay for Life, 40 Hour Famine, Clean-up Australia, Surf Lifesaving, Leukemia Foundation, Redkite, Salvation Army Appeals, RU OK and Youth Leadership programs, Local Government, Youth Sport Engagement, Mental Health Forums,  Domestic Violence Victim Support, Reconciliation and NAIDOC Week, Human and Indigenous Rights, Youth Pride and Inclusion initiatives, and a range of Environmental and Climate Change activities.
 Mentoring :
Disadvantaged and disengaged youth in local communities, inclusion initiatives within indigenous, refugee, and other disadvantaged youth incentive programs, tutoring indigenous, disadvantaged, autistic, special needs, refugee and immigrant children
 Volunteering:
Active engagement in : Aged care, multicultural development programs, disaster relief programs and activities, community youth leadership programs, refuge centres, prisoner and victim support groups, performing arts education, Local Government youth advisory committees, community radio and education programs against domestic violence, racism and discrimination in local communities, supporting fire, flood and drought-affected farmers, families and communities,  and wide ranging community health initiatives such as Mental Health Awareness and Suicide Prevention Programs
 Action for Change:
Introduction of tactile banknotes for the visually impaired, establishment of Women's Shelters, service with emergency services organisations, acceptance and advocacy for inclusion of immigrants and refugees, recognition and support of multicultural and cross-cultural initiatives, service learning for development, environmental awareness and climate change, representation at Local, National and International workshops and conferences
The recipients of these awards are very special young Australians, whose actions and contributions have set them apart and enriched their communities, often well beyond the boundaries of their schools.
Contact for further information:
Dr Frank Kelleher OAM
Convenor, Youth Community Service Award
Order of Australia Association (NSW Branch)
0427 644 397 or email fkellehe@bigpond.net.au