Regional News
The first Regional Group to hold a function was Tamworth (now the North West Regional Group) on 21st September 1984; up to the date of this Newsletter hundreds of functions have been held in regional areas – lunches, dinners, morning/afternoon teas, church services and other events.
CLARENCE RICHMOND REGION
LUNCHEON
The Clarence Richmond region held a luncheon at the Alstonville Bowling Club on Sunday 10 September 2023 where over 30 members and their guests enjoyed great food and company.
The guest speaker for the luncheon was Mr. Colin Lee OAM, who gave a live update on the impact of the North Coast floods, which are continuing to have drastic effects on families, landowners, and multiple communities in the region. More than 18 months after the devastating floods 52% of flood victims are still living in shells of homes that were flooded; 26% are still living in temporary accommodation such as caravans, sheds, or pods, or with family and or friends; 18% are still living in insecure accommodation such as tents or temporary rentals or in cars; 4% are no longer living in the area.
Many families will not be able to return to their homes, many buildings have no insulation and often, no walls. As Mr Lee explains, 'We came across a product called Rapid Response Housing, which is a collapsible box house. It's a very strong, well made, insulated single room which we fit out with a kitchenette. Some have showers and hot water systems. We fit those out to accommodate people for their sleeping and living quarters.' These 'RotaUnits' can be installed in backyards, under houses, or in free standing locations in rural areas. People can use the units as a base while they complete repairs to their houses nearby, and maintain connections and jobs within their local communities.
The incidence of family violence and breakups, outbreaks of violence and suicide, children living in split families and often without adequate housing, are reported as higher in the North Coast area than in any other area across NSW, all attributable to the floods of February 2022.
The Convenor, Mr. Grahame Gooding OAM, also the secretary of the Far North Coast Legacy Club, has been a uniting figure in the Region, and one who continues to make a huge difference to his local community in many ways. At the completion of the luncheon Grahame held a general committee meeting where all members of the committee again volunteered to continue as members of the committee as follows:
Mr. Grahame Gooding OAM Convenor; Mrs. Robyn Spruce OAM, Mr. John Barnes OAM, Mrs. Helen Hargreaves AM and MR Phil Chapman OAM as committee members.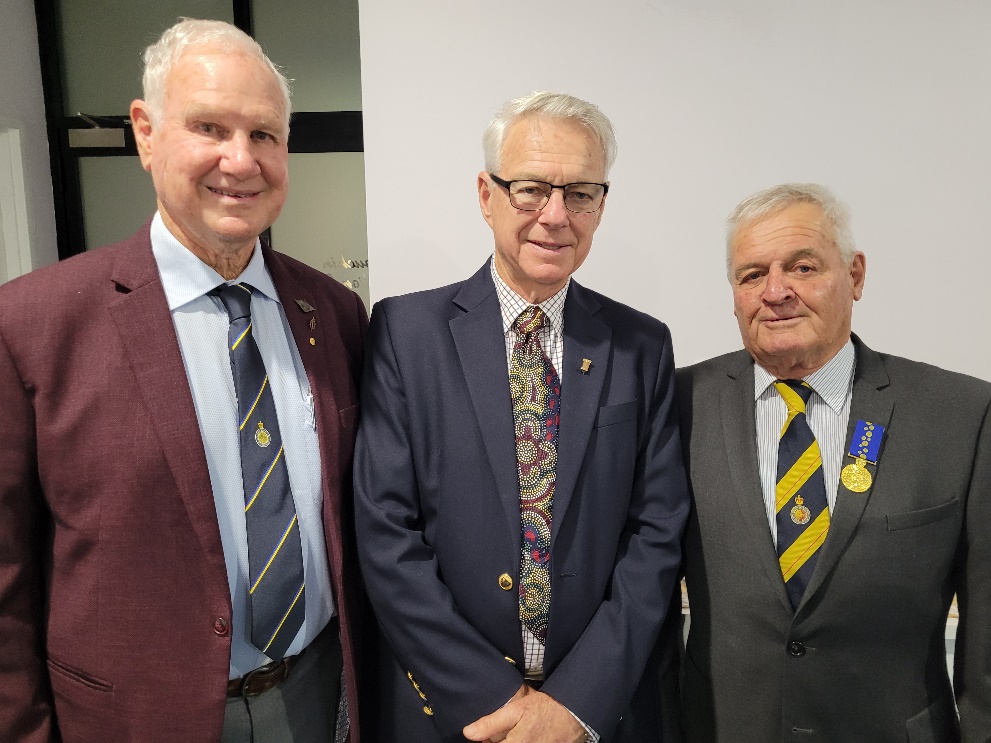 Grahame Gooding OAM – John Barnes OAM – Col Lee OAM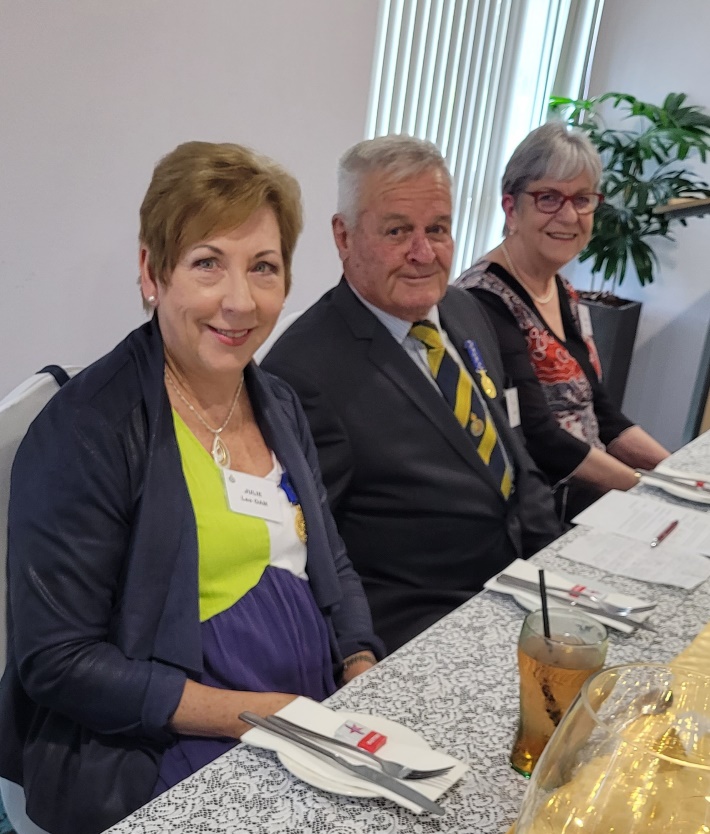 Julie Lee OAM – Col Lee OAM – Stephanie Gooding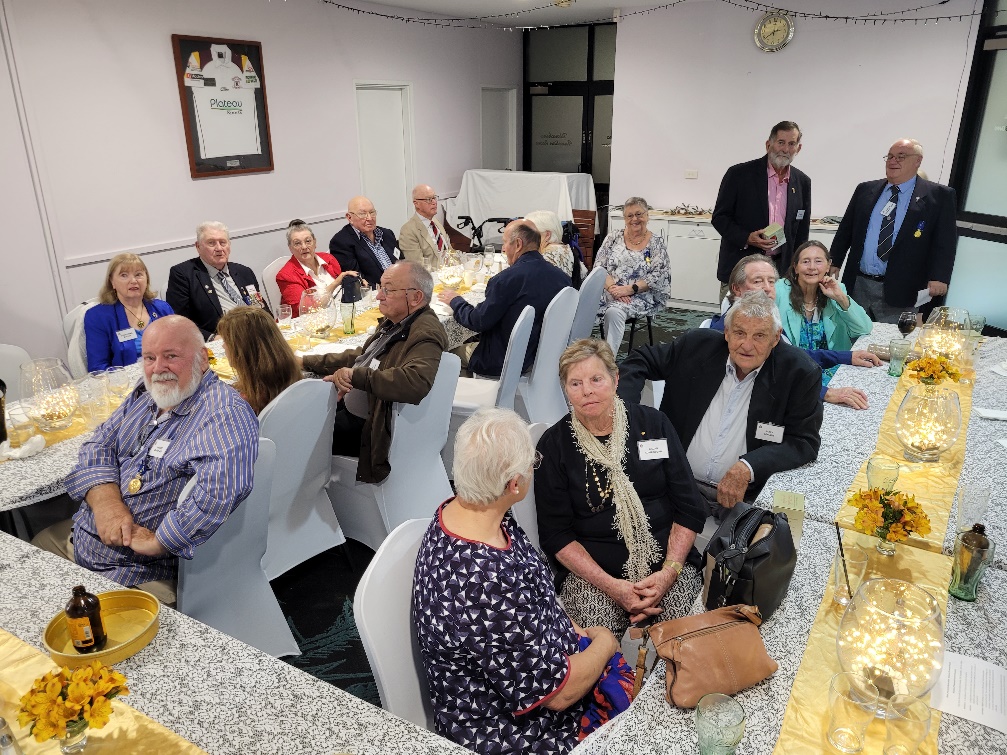 A landscape view of the attendees at the Clarence Richmond Luncheon
FAR SOUTH COAST REGION
| | |
| --- | --- |
| | Jan Phillips and MC Peter Atkinson welcomed everyone to the Far South Coast afternoon tea held on August 22 in Bega. Among the attendees were two newly awarded members in the King's Birthday Honours List, Miss Pam Hamory OAM and Mr. Frank Davey OAM |
| | |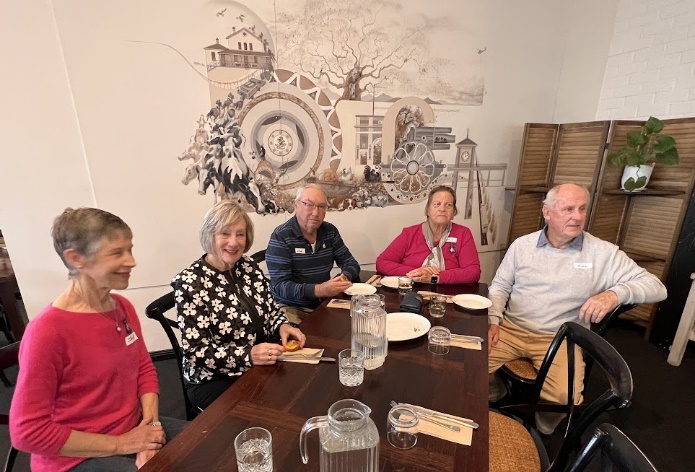 Jenny Munro AM, Judy Glover, John Glover OAM, Kris Macauley AM and Col Macauley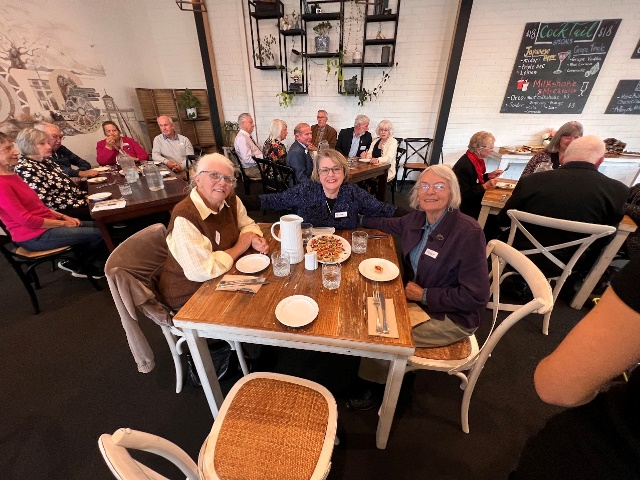 Miss Pamela Hamory AM with her friends, Teresa Warburton and Penny Young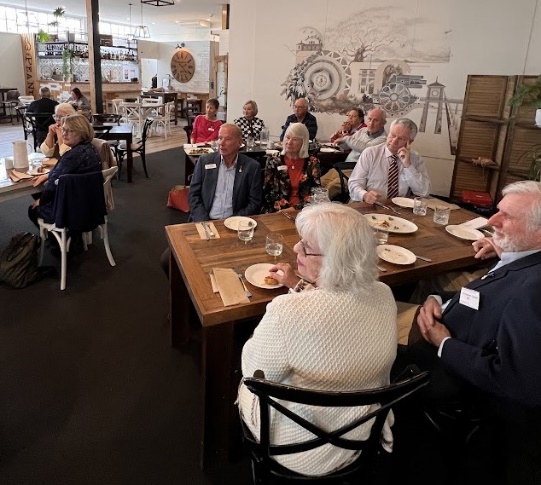 Peter Atkinson OAM, Mary Arkinson OAM, Rod Parker AM and in the foreground R-L Dr Graham Garner AM and Mrs Garner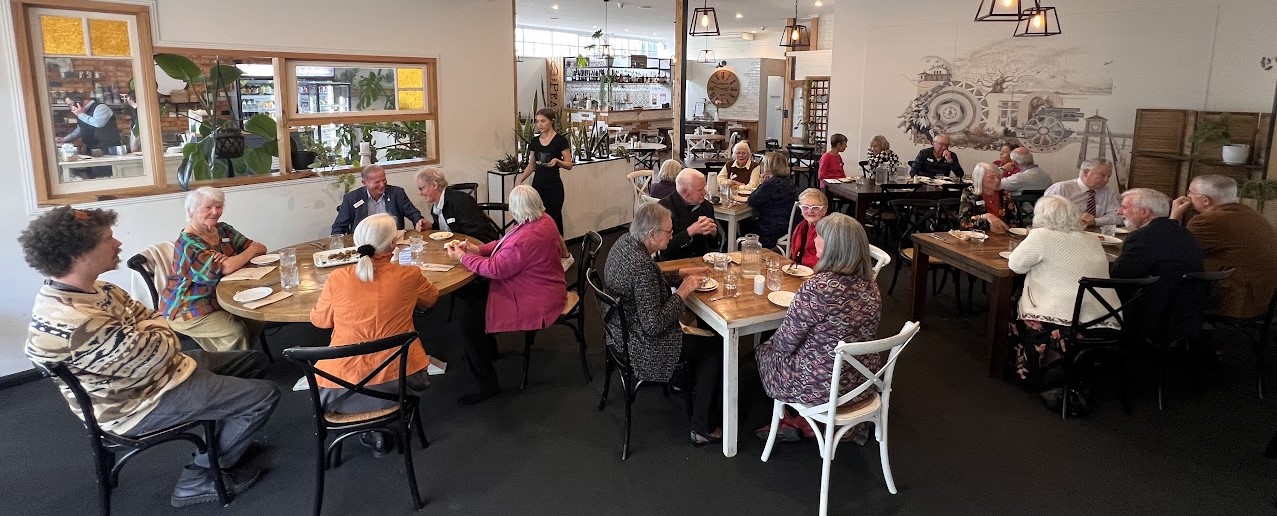 A panoramic view of the afternoon tea party.
HUNTER REGIONAL GROUP – MORNING TEA SATURDAY 26 AUGUST 2023
The Hunter Regional Group held a wonderful morning tea at the Cardiff RSL Club on Saturday 26th August 2023 with 82 members and guests enjoying the occasion.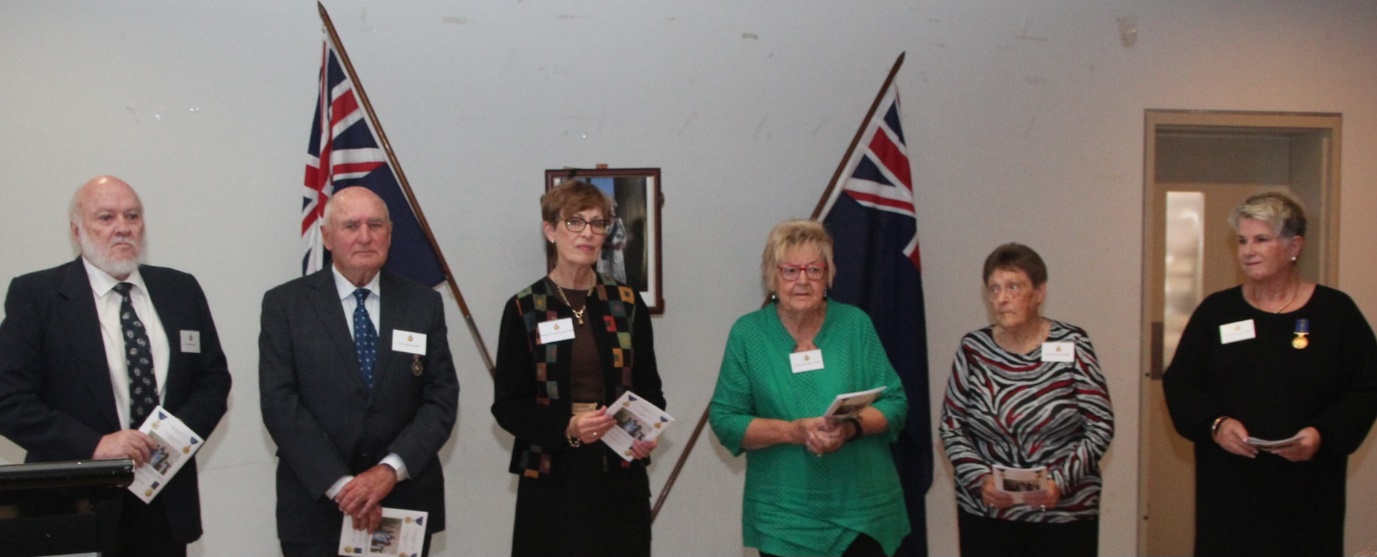 Attending a Hunter Regional Group function for the first time were six recent awardees: –
Mr. Ken White OAM, Mr. John Dunnet OAM, Dr Rosemary Hackworthy OAM,
Mrs. Patricia McMahon OAM, Mrs. Margaret Wood OAM and Mrs. Rhonda Scruton OAM.
The guest speaker at the morning's tea was Laureate Professor Clare Collins AO FAHMS FNSA FRSN FDA, who spoke at length on her journey into food and nutrition research and health practice. She has also written a book called Cook's Tour.
Laureate Professor Clare Collins is a Professor of Nutrition and Dietetics, and Director of Research in the School of Health Sciences at the University of Newcastle, and Director of Hunter Medical Research Institute, Food and Nutrition Program. Laureate Professor Collins has made major contributions to our knowledge on the impact of improving diet quality and food patterns on health and wellbeing outcomes.

She is also a well-known and highly sought after nutrition media commentator, with thousands of media interviews for radio, print, blogs and TV under her belt. She is a regular guest of Dr Karl on ABC, Triple J Science Hour and Shirt Loads of Science. In 2018 she was a presenter for Catalyst and appeared on Ask The Doctor.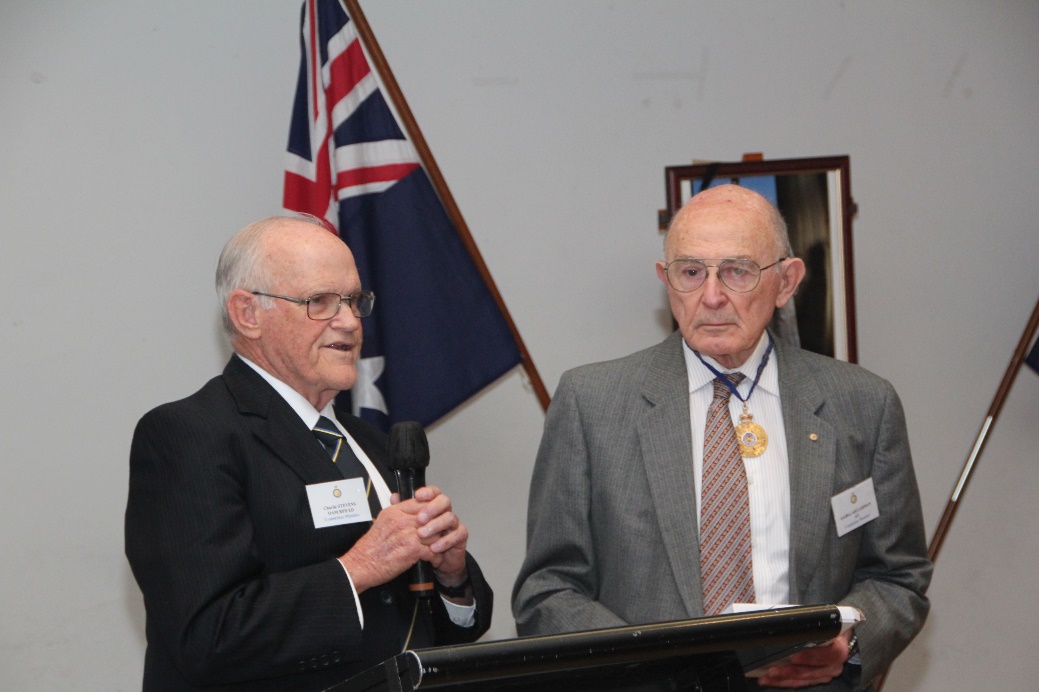 Mr. Charlie Stevens OAM acknowledging Professor Geoffrey Kellerman AO for his outstanding service to the Order of Australia Hunter Regional Group. Geoffrey was a member of the committee from 1999 to 2022 including many years as Treasurer.
John Lovett OAM and Dawn Lovett OAM
Barbara and Laurie Kelly AM RFD ED – past Convenor of the Hunter Regional Group
Jack McNaughton OAM with his wife, Judy
Glenice Hanley and Barbara Stevens who welcomed all on arrival.
NEW ENGLAND & NORTH -WEST REGIONAL GROUP
Some 28 members of the region attended a Luncheon at the Town & Country Club, Frome Street, Moree on Saturday 19 August 2023 for fellowship and to recognise the award of an AM to Secretary Roger Butler and the OAM to Don Murchie, Dr Diana Coote and Dr Clem Gordon.


NSW Branch Chairman Jim Mein AM and his wife Gill travelled from Sydney to join the luncheon and offer "Parting Thoughts".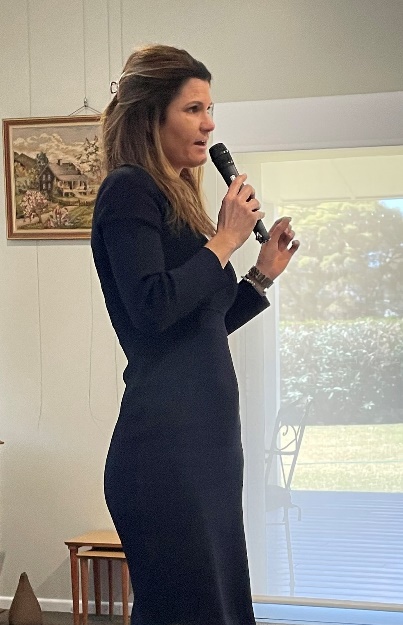 In attendance also were Dick Estens AO (of the Estens Telstra enquiry and founder of Aboriginal Employment Strategy Limited) and his daughter Sascha (she was the founder of Rabbit Hop Films) as guest speaker for the occasion, tracing her and her company's history with extracts from fascinating film that she had produced.
There were a large number of apologies, some due to distance, others from members who had departed the region, but most for health reasons.
The pictures attached are of Sascha Estens, addressing the gathering, Gill and Jim Mein AM on the left of the other picture and Dick Estens AO on the right having just filmed Sascha.
ILLAWARRA REGION MORNING TEA
On Friday 11th August the Illawarra Region held their newly formed morning tea event which was attended by three new awardees from the King's Birthday Honours list for 2023.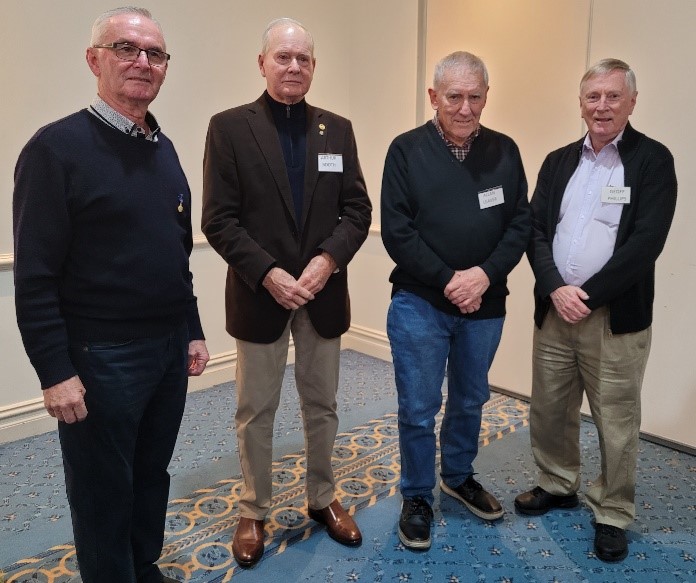 Phil Thompson OAM, Convenor Illawarra, photographed with Arthur Booth OAM, Alan Leaver OAM, and Geoff Phillips OAM at the morning tea.
Phil introduced the new members and invited them to stand with him at the front to applause from the audience.  The King's Birthday Investitures will be held in September 2023.  Phil Thompson asked the audience to recount their reactions on receiving the letter from Government House, Canberra, and one member recounted that an email they also received may have been a scam which one did not open for a few weeks.
The guest speaker at the morning tea, Val Fell OAM, spoke about the Council of Elders.  She spoke about the Aged Care Council of Elders who are a group of older Australians with diverse backgrounds and life experiences.  Their aim is to help shape the aged care system by informing older people about the aged care reforms and providing advice to the Government about aged care reform and ageing well.  To obtain more information on the Aged Care Council of Elders look up AgedCareEngagement.health.gov.au or 02 62898769.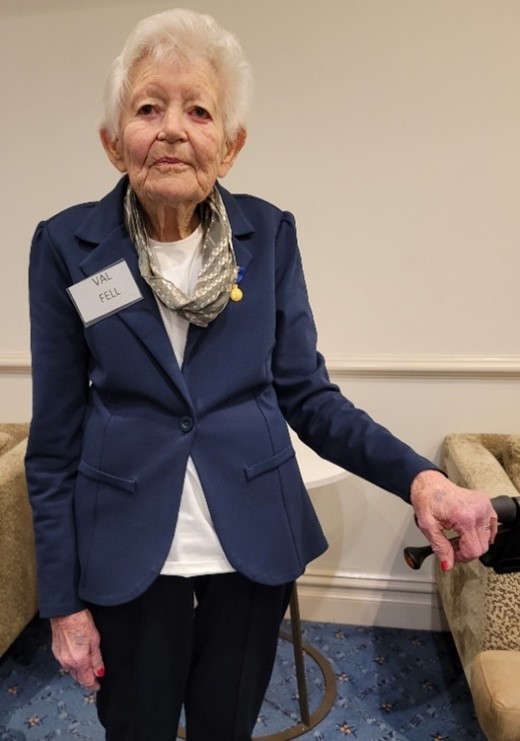 Val Fell OAM
 HASTINGS MACLEAY LUNCHEON
On Thursday 3rd August 2023 the Hastings/Macleay Branch had a very successful luncheon which included  the local Retired Police Officers Association. 
Our guest speaker was Retired Police Superintendant Deb Wallace, who was also guest speaker at the State Branch AGM in April 2022. 
It was a most enjoyable presentation which included Deb's great sense of humour. As it happened, one of our retired police officers attending was a boss in Deb's early career, and she joked that her presentation had to keep "on track"!  All in all, it was a very enjoyable get together, and Deb took the opportunity to sit around and chat with those of us who could 'linger a little longer'. 
Laurie Smith
Hastings Macleay Regional Convenor
Southern Highlands Group News 20 July 2023
Our local committee has been working on some suggestions and activities which we trust will underpin some intentional 'marketing' of the Order of Australia in the Southern Highlands.  We would love to share this information with you and our first opportunity will be at the 
HAPPY HOUR @ THE IMPERIAL HOTEL
Wednesday 26 July 2023 — 5.00pm – 7.00pm
This is an informal gathering for members to catch up with others as it has been a while since our October 2022 gathering.
Partners are welcome.  Drinks/Food at own expense.
Numbers are limited, so please reserve your spot by RSVP to email: [email protected]
We would love to see you there!
Save the Date Invitations…
WELCOME TO NEW MEMBERS 2023
Friday 13 October @ Mittagong RSL.  3.30pm for 4.00pm – 6.00pm.
There will be a Guest Speaker.   More details to follow…
Annual Braille Music Concert…
This was an awe-inspiring event and one which our local group has supported financially for many years.  Congratulations to Roma Dix OAM for her organisation of the annual music camp and concert for the last thirty years.  An amazing committment!
We look forward to meeting up with you at our planned gatherings.
If you have any suggestions for future events and/or inspirational Guest Speakers, please do not hesitate to contact me.
Sharon Hoogland OAM, Chairperson SHG
email:  [email protected]
Hastings-Macleay Branch Newsletter
Welcome to the second edition of the Order of Australia Association Hastings-Macleay Branch Newsletter!
Congratulations to the new Awardees King's Birthday Honours List from our local area.
Mr Colin Ball OAM – For services to Surf Lifesaving and the Community for over 60years.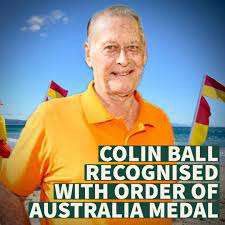 We offer our sympathy to Mr Ball's Family as his Award was presented shortly before his passing.
Professor Gail Whiteford AM – For significant service to Tertiary Education & Community Health
https://www.portnews.com.au/story/8223419/gail-whiteford-appointed-am-for-service-to- tertiary-education/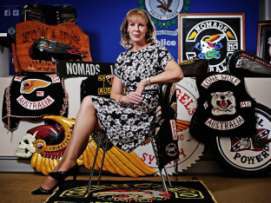 We are looking forward to seeing you at Port Macquarie Golf Club on Thursday 3rd August at 12 noon for our Luncheon together with the local Retired Police Association members.
Our Guest Speaker is Deb Wallace – Retired Police Officer and Retired Head of the RAPTOR Taskforce.
To book and for more details, please contact our Convenor, Laurie Smith on 0416 221 147 or [email protected]
Turn over the page for more about our wonderful Speaker, Deb Wallace from the ABC Website (Conversations Program)…….
When Deb Wallace joined the NSW Police Force in 1983, there were very few women on the front line. She quickly discovered she had the cool-headed resilience ideal for police work, and she was determined to make a career of it.
In the mid-1990s Deb was a junior Detective when she was given a tough assignment – breaking up the gangs who ruled the streets of the Sydney suburb of Cabramatta.
At the time, Cabramatta was a vibrant place full of migrant families trying to carve out a new life in Australia, but crime was surging. Restaurants were being extorted, there were many 'neck chain robberies' and the train station was the centre of a thriving heroin trade.
After reading Sun Tzu's 'The Art of War' Deb met up with the gang members in person to ask them about their lives. They told her that they were lost to the world crime, but she should focus on the next generation, so she helped set up a street school with Father Chris Riley.
Some years later Deb was given a new challenge: leading Strike Force Raptor – a squad charged with breaking up Bikie Gangs. Using existing laws and regulations, the strike force systematically dismantled the Bikies' clubhouses, their right to fraternise, and their bank accounts.
Deb recently retired after 36 years on the force and now volunteers at Grace's Place – a place of healing and restoration for young people affected by homicide.
Meet Sue Baker OAM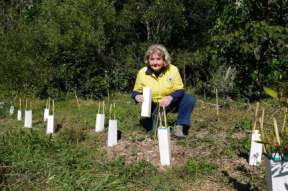 Sue Baker OAM is a woman of action. There is no stopping her tireless efforts to protect and enhance our natural environment and to empower others to do so as well.
For over forty years Sue has worked on conservation projects aiming to restore natural habitats through the removal of serious weed infestations and the planting of thousands of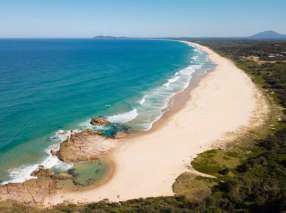 seedlings….in fact more than 10 000 seedlings since 1999 planted in the Dunbogan peninsula. Areas like Pilot Beach and Gogleys Lagoon, Camden Head not only attract thousands of visitors but now are a safe haven for
original flora and fauna.
Sue founded the Dunbogan Bush Care Group in 1999. At the same time she took over management of the National Parks Association project in Crowdy Bay National Park. A new initiative with Laurieton United Services Club is working on the foreshore of the Camden Haven
River near the Club. Locals and staff are eager participants in this project. Like other projects, Volunteers learn more about native plants and can see the benefits of their regeneration work.
With the Dunbogan group, they have planted thousands of native seedlings and also undertaken an erosion control project on the edge of Gogleys Lagoon.
Sue's determination and passion for caring for our natural environment is reflected in the fact that Nature does not stop. Plants need watering, weeds grow back and challenges arise like floods, fire and vandalism. It is well and truly an ongoing commitment for Sue and her teams.
Being involved in this work has also required navigating grant applications and all levels of government. A mighty feat. Sue has raised over $700 000 worth of grants for environmental restoration.
As mentioned, Sue has always aimed to share her knowledge and enthusiasm. Prior to her conservation work here, Sue worked as a Geography Teacher and then worked with 62 High Schools assisting them in implementing new syllabuses and writing support texts for High School teachers and students. Her publications continue with the "Pobblebonk Earth Detective" series for younger children.
So what does Sue do renew her energy? As you can imagine, the natural world restores Sue especially surfing at Diamond Head. Sue is always wanting to learn more and takes a great interest in travelling, politics, current affairs, writing and films.
And if Sue could wave a magic wand?…"My greatest wish is for conservation of and protection of ecosystems and their wildlife in the age of rapid population growth; to end cruelty to all animal life; for businesses to operate sustainably; for our government to be able to effectively deal with climate change and overcome all the political blockages that have occurred so far."
Sue is doing her best to make these wishes come true and encourages us all to learn more about our local environment, to plant native vegetation in our gardens and to remove weeds that can spread into native bushland. Council has a booklet on weeds of the Mid North Coast. There is also plenty of information on the Internet. Nurseries can provide assistance on suitable native replacements.
Thank you Sue for sharing some of your Story.

Please let us know if you would like to share something in the next Newsletter. Email [email protected]
Order of Australia Hunter Regional Group Morning Tea, Port Stephens 28 June 2023
The Order of Australia Hunter Regional Group held a morning tea in the Recreation Hall of the Salamander Haven Retirement Village, Port Stephens Veterans and Citizens Age Care on Wednesday 28 June 2023.
The Master of Ceremonies was Gerry Collins, an ABC sports broadcaster and commentator.
Ian Lovell APM is the local co-ordinator. He gave an update on Order of Australia happenings in the Port Stephens area.
Peter Corcoran AM, Order of Australia Hunter Regional Group Convenor, welcomed all to the morning tea and reported re activities in the Hunter Region. He reported that there had been eight Port Stephens area residents recognised with an Order of Australia award since the previous Port Stephens morning tea in June 2022.
Peter introduced and congratulated four recipients who were at a Port Stephens Order of Australia Morning Tea for the first time – Ken White OAM, Kerry Schiemer OAM, Anne Frost OAM and Anne Flint AM. They were presented with a copy of the Order of Australia Hunter Regional Group, brief history booklet.
The guest speaker at the morning tea was Ron Land, the President of Port Stephens Koala Hospital (photo). He advised re the workings of the hospital and the rehabilitation of koalas as well as other native birds and animals.
Of the koalas admitted to the hospital, many do not survive the first day. 90 per cent of the first day survivors, are nursed for eventual release into their native habitat.
The non-profit hospital survives due to government, industry and private donations along with the work of many volunteers.
Surpluses from the annual Port Stephens Morning Teas are paid into the Port Stephens Veterans and Citizens Age Care Scholarship Fund each year.
The next Port Stephens Order of Australia Hunter Regional Group morning tea is planned for June 2024.
Major Charles Stevens (Retd) OAM, RFD, ED
CENTRAL COAST REGION – AFTERNOON TEA
This morning the Central Coast Region OAA, held a morning tea meeting at the Erina Leagues Club Erina in a private meeting room with the Guest Speaker, Ross Pearce a local Pharmacist speaking on the latest changes to the Pharmacy rules and regulations.
23 were in attendance and many questions were asked and responded to.
The meeting room, video equipment and morning tea/coffee were supplied free of charge by the Club.
Harold Sharp OAM
Convenor, Central Coast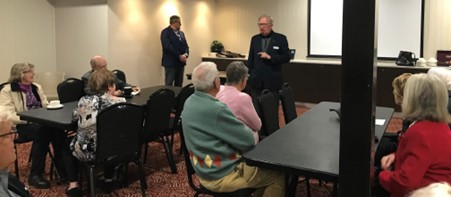 ILLAWARRA REGION LUNCHEON DAPTO LEAGUES CLUB
The Illawarra regional branch held a luncheon at the Dapto Leagues club on Friday 12th May with 69 guests attending. The Illawarra branch worked very hard to ensure that the venue was spotless and hosted the members with friendship and happiness.
Three of the guests were recently awarded their respective honours by the NSW Governor and they are Mr Darryl Shephard OAM, Mr John Stubbs AM and Mr Garry McKay OAM.
The NSW Chairman Mr Jim Mein AM attended and spoke of the need to encourage more applications and acknowledgment of people in the community who continue to do outstanding work for their communities.
Professor David Currow, the Deputy Chancellor of the University of Wollongong was the guest speaker. He is a widely published academic with research in symptom control, population burden of symptoms and health services research.
HUNTER REGION MORNING TEA
The Order of Australia Hunter Regional Group conducted a successful Morning Tea at Cardiff RSL Club on Saturday 18 March 2023 with 118 in attendance.
A report and greetings were extended to those present from Chris Dunne OAM who was representing the New South Wales Branch in his role as Regional and Web Coordinator.  Chris was accompanied by Gail Dunne OAM, New South Wales Treasurer.
The well received guest speaker was Rosemarie Milsom BA DipEd who spoke on her career titled "Art and Life".
June Cameron AM was presented with a plaque recognising her ten years of outstanding service as Order of Australia Hunter Regional Group Convenor – 2012 to 2022.
Peter Corcoran AM has succeeded June Cameron AM as Order of Australia Hunter Regional Group Convenor.  He congratulated and welcomed those awardees attending a function for the first time.
Gerry Collins, ex ABC Sports commentator, was professional in his duties as the Master of Ceremonies.
The next Hunter area function will be a morning tea at Salamander Bay on Wednesday 28 June 2023.
There will be a morning tea at Cardiff RSL Club on Saturday 26 August 2023 to acknowledge local King's Birthday Order of Australia awardees.