Mrs LOUISE DAVIS AM
COMMUNICATIONS & PUBLICITY LIAISON
ORDER OF AUSTRALIA ASSOCIATION NSW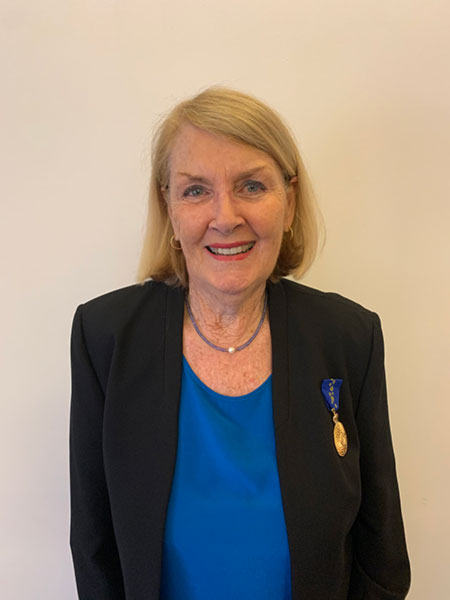 After 28+ years as Executive, Corporate Citizenship & Corporate Affairs IBM Asia Pacific, Louise retired from IBM in August 2015 and subsequently consulted in the field of Corporate Citizenship, in the Asia Pacific region.
In her role with IBM, Louise managed IBM's corporate social responsibility program in Australia and across 15 countries in the Asia Pacific region.  Louise managed a team of 27 Corporate Citizenship professionals in the region, and worked with major not-for-profit organisations throughout Australia and Asian countries and with relevant Government Ministers and Departments, City Mayors and State Governors.
Louise served as a Council Member of the Science Foundation for Physics at Sydney University from 1998 until 2011 and was appointed the President of the Foundation in 2005, for 3 years. Her broad community involvement has included being Chair of the Lord Mayor's Cultural Advisory Committee (Sydney City Council) from 1998 to 2001, a Trustee of the Art Gallery NSW Foundation from 1992 to 2002, a member of the Australian Federal Government Committee on supporting Muslim Communities in 2007, and the Australian Government National Strategic Policy Framework & Funding Model for Infrastructure Planning and Development in Remote Indigenous Communities.  
Louise worked with Victoria University School of Education, within the Faculty of Arts, & Human Development for over 19 years, supporting VU indigenous educational outreach initiatives in remote communities. In 2013 she was on a review panel for Deakin University, looking at the Deakin Bachelor of Arts program, to provide input from an industry point of view. Louise also led a major education partnership (Reinventing Education) over a number of years with Victoria University, and the Department of Education which focused on helping teachers in Australia, India, China, Vietnam and Singapore to implement a different model of teaching, whereby classrooms were student-centric.  A major change especially in Asian schools.  Australian teachers were sent to Asian countries to support teachers in classrooms in the region.  She also led the implementation of the KidSmart early learning program throughout 14 countries in the Asia Pacific region over a period of more than 10 years including introducing KidSmart to many schools catering for indigenous students.
Over the past 30 years, Louise has also participated on various NGO fundraising committees, including Clean Up Australia, Clean Up the World, Breast Cancer Australia, Australian Chamber Orchestra and Noffs Foundation for at risk youth.
From 2015 until 2018 Louise consulted on educational programs in the Asia Pacific region, including on the P­-TECH school to career transition partnership with the Australian Federal Government, Department of Education.
Prior to joining IBM in 1987, Louise had a broad experience in consumer marketing, direct marketing and public relations, representing Christian Dior Perfumes and Cosmetics in Australia, including as General Manager of Christian Dior for >10 years.   She studied horticulture in 1981 and established her own wholesale plant nursery in Dural.
Louise was recognized in the 2018 Queen's Birthday Honours List as a recipient of the Member (AM) in the General Division of the Order of Australia for her service to business in the not-for-profit sector through promoting corporate social responsibility, and to the community. She was elected to the Committee of The Order of Australia Association NSW in 2019.  Louise was included in Who's Who of Australian Women (Crown Publishing) from 2006 until 2017.
Louise completed the Higher School Certificate at MacRobertson Girls High School, Melbourne; and later studied horticulture at Ryde School of Horticulture in Sydney.  She completed her Post Graduate Certificate in Public Relations at the University of Technology, Sydney in 1994, and Company Director's Course at the Institute of Company Directors in 1997.  She also has a Certificate in Direct Marketing from ADMA.