David North OAM B. Pharm. M. Pharm. (Clin.) MPS (Life member)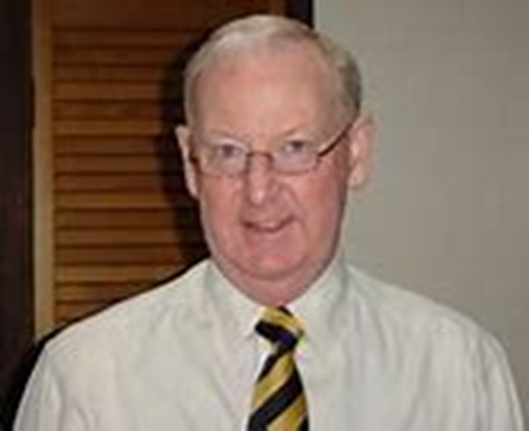 Education.
Attended Undercliff Public School, Canterbury Boys' High, and Sydney University attaining a B. Pharm. and M. Pharm. (Clin.)
Pharmacy.
In a career beginning as a Soul Pattinson cadet in 1969 and progressing on graduation to Pharmacist Manager of the Soul Pattinson Auburn, Liverpool Westfields, Penrith Plaza, and the Wollongong branches. In 1984 the challenges of a Proprietor Pharmacist Partnership in Centretown Pharmacy and Gateway Pharmacy Wollongong were undertaken. This led to involvement and membership of the Illawarra Pharmacists' Association (IPA) since 1984. (Secretary since 1995), membership of the Pharmacy Guild of Australia since 1984 (Zone 6 secretary), and membership of the Pharmaceutical Society of Australia since 1969 (Now Life Member – Ambassador). In 2004 a change in focus of practice led to membership of COORDINARE – South Eastern NSW PHN (Since 2010), becoming Director of pharmacy Broken Hill hospital 2005 -2006 and expanding to participation in peer reviewing, mentoring, auditing, and assessing which was commenced in 1995. In 2014 commenced participation in professional performance assessments of NSW pharmacists and as an occasional member of the Occupational Division of the New South Wales Civil and Administrative Tribunal. Involvement in community projects have included coordinating a Community Palliative Emergency Supplies with Port Kembla Hospital, No Smoke is Good Smoke with ISHASDA, Asthma Project Sydney University, After Hours Project with ISAHS, Antibiotic Over Use with U.O.W, promoting medication safety & responding to overdose risk (Opioids) and the Naloxone/Nyxoid access program. Other activities have included the Lead pharmacist in a PSA/South-eastern PHN in "building capacity in the community pharmacy setting to improve access to appropriate end of life medicines for residents of SE NSW" (2020-21), being a volunteer member of the Pharmacists' Support Service since 2017, a board member of Pharmacists' Support Service since 2019, and the treasurer of the Pharmacists' Support Service since 2021.
Other Community Involvement.
These included a Towradgi Turtles Life Saving Club, a member of Campsie Apex Club (President, membership, program, and newsletter director) 1969 – 1977, Kentlyn Volunteer Bushfire Brigade (Secretary) from 1974 to 1981, and Rotary International partner of District Governor District 9675 2019 -20. raising $50K to send an Interplast surgical mission to Myanmar.
Basketball.
Involvement in the Illawarra Basketball Association has included coaching an Under 14s boys team 1989 – 90 and an Under 16s boys team 1991 – 92, Co-ordinator for Under 18 National Championships in 1995.Recipient of President's Award 1995, Illawarra Basketball Association Board director 1996 – 2016. Association president 2007 – 2016, Board director of Illawarra Hawks Basketball Association (National Basketball League). 1996 – 97, Illawarra Basketball Association's Judiciary member 2010 – current, Member of the Sports Facility Infrastructure Committee of Wollongong City Council 2004 – 2008, Illawarra Sports Stadium director 2006 – 2013, and Illawarra Basketball Association life membership 2012
Scouting (Scouts Australia).
Commencing as a Cub Scout in 1958 and eventuating to a Leader with 45 years' service award to date. This Scouting career has included Assistant Cub Scout Leader 1975 – 83, Assistant Leader Trainer (NSW Training Team) 1983 -1998, Leader Trainer (Australian Training Team) 1988 -1998, Assessor for the RTO Scouts Australia Institute of Training (SAIT), Assistant Area Commissioner for Cub Scouts 1989-1997, Assistant Area Commissioner for Venturers 1997-2001, Region Commissioner Development. 2001 – 2017, Region Commissioner Community 2018 – currently, Region Chairman for the South Coast and Tablelands Region. 2015 – currently, Recipient of adult recognition awards for good service including a Silver Wattle – for outstanding service, a Silver Koala – for distinguished service and a Silver Emu – for sustained and exceptional service.
Car Clubs of NSW
Sprite Car Club of NSW (2000 – 2014) Secretary. Capri Car Club NSW 2013 -current Vice President and Magazine Editor
Port Kembla Chamber of Commerce and Industry.
Chamber Executive Committee member 2014 – 2015. Race director for the Port Kembla Billy Cart Derby 2015
Chamber secretary 2016 – 2022. Public Officer (2014 continuing)
Achievements
Bachelor of Pharmacy (University of Sydney), Master of Pharmacy (Clinical) (University of Sydney), Life Member of Basketball Illawarra, Life Member of Illawarra Pharmacists Association, Life member of the Pharmaceutical Society of Australia, recipient of multiple adult recognition awards – Scouts Australia, Wollongong Senior Citizen of the Year 2018, OAM for service to the Illawarra Community.