SOUTHERN HIGHLANDS GROUP
Following three years of inactivity due to COVID-19, the Southern Highlands Branch of The Order of Australia Association is re-emerging with a new Committee and a commitment to recognising Honours Awardees since Queens Birthday honours in 2019.
To recognise the 34 new Southern Highlands Awardees, a High Tea Reception was held at the Mittagong RSL on Friday 14 October 2022.  NSW Branch Chairman, Jim Mein AM was in attendance to present the individual Awardees. 
Over 50 OAA Awardees and their partners enjoyed a wonderful time of catching up with both old and new members and feedback from the event was exceptionally positive. 
The retiring committee, especially Virginia Adlide OAM, Margaret Smith AO, Malcolm Stephens CB, Peter Grigg AM, were acknowledged and sincerely thanked for their many years of dedication.
New Convenor of the Group, Sharon Hoogland, spoke on behalf of the new committee…
"This room is full of people who are committed to working for the common good…
For making our local community the best it can be…
For building our social capital that all may share in resources, knowledge, opportunities and purpose.
The new committee, and we trust our members agree, is committed to continue the support offered in past years, of Roma Dix OAM and her organisation of the Braille Music camp, a national event held annually in Mittagong.
We have also discussed ways to encourage Youth leadership locally, as they prepare for their careers and to encourage them in service to the nation, and following the purpose of the OAA, to pursue the charitable purpose of celebrating and promoting outstanding Australian citizenship.
We look forward to the future with great expectation, and we ask all of our members to join with us in making a unique contribution to the Southern Highlands community."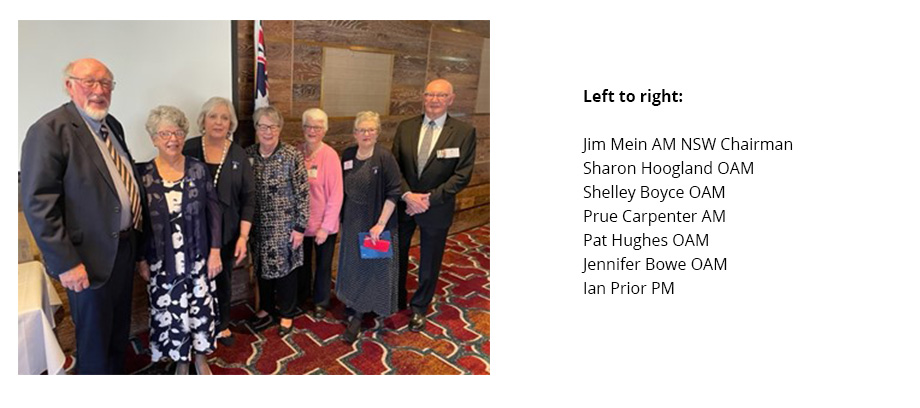 Order of Australia Regional Annual Luncheon
October 15th 2022 at Dubbo RSL Memorial Club
The Dubbo/Orana Regional Group held a Luncheon to welcome new recipients and others who were attending for the first time. Despite flooded roads and continuing rain, there were 65 attendees from Bourke, Louth, Dunedoo, Wellington, Stuart Town, Gilgandra, Tottenham, Trangie and Coonabarabran as well as local residents.  This followed a two-year interruption caused by Covid.
The Director and students from the Macquarie Conservatorium provided entertainment.
The Special Guest Speaker was Dr Florian Honeyball, Chair of the Cancer Centre at the Dubbo Base Hospital, who addressed the Group and explained the operation of the Centre and the new equipment which is the best in the west.
Dr Florian also complimented the regional community efforts in raising funds to build the Home Stay residences beside the hospital providing accommodation for patients and family from western areas.
The afternoon concluded with the drawing of the lucky door prize and raffle which were kindly provided by Rex Airlines and The Dubbo RSL Club.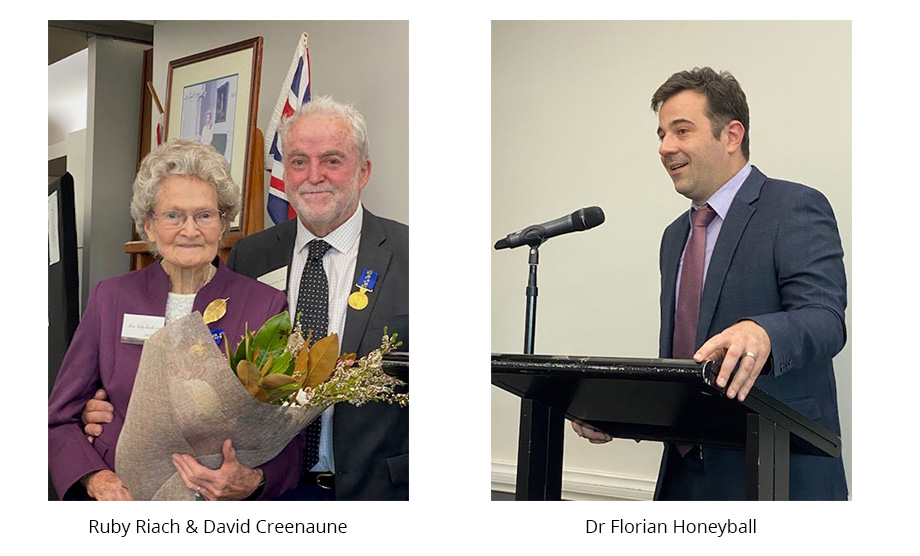 Clarence/Richmond Regional Branch
The Clarence/Richmond Branch held its annual function on Sunday, 18th September at the Alstonville Bows and Sports Club.
This function had been planned for May, but the Committee decided to postpone it because of the ongoing disruption in the district caused by the aftermath of the unprecedented flooding across the region in February and March.
The luncheon was well attended by 21 Awardees and 17 Guests. Our Guest speaker was Mr Stephen Garbutt OAM. Steve was given his award in 2021 for his long service to the community through his work with Emergency Services, and especially in his role as long term Captain of the Wyrallah Bush Fire Brigade.
Steve spoke on his many deployments, working on Bush Fires in four States over many years, as well as his work in Flood cleanups, especially in this year's Northern Rivers floods. He emphasised the emotional stress that all emergency personal experience when dealing with these devastating situations, and with peoples trauma in loosing lives, possessions and animals.
The Branch Committee were all returned for another year, and next year's function is planned to return to May 2023.
Grahame Gooding OAM
Branch Coordinator
Hastings Macleay
On Wednesday 27th July 2022 the Hastings/Macleay Branch gathered for an informal luncheon at the Port City Bowling Club.
State Branch Chairman Jim Mein AM attended and shared information on State activities including the Youth Community Service awards.
Former Qantas Flight Attendant, Barbara Smith, gave a presentation on volunteer activities by Qantas Flight Attendants while in overseas ports including in Asia and Africa.
The Hastings/Macleay Branch plans on having another luncheon in the leadup to Christmas. However, in the meantime informal coffee sessions will also be happening.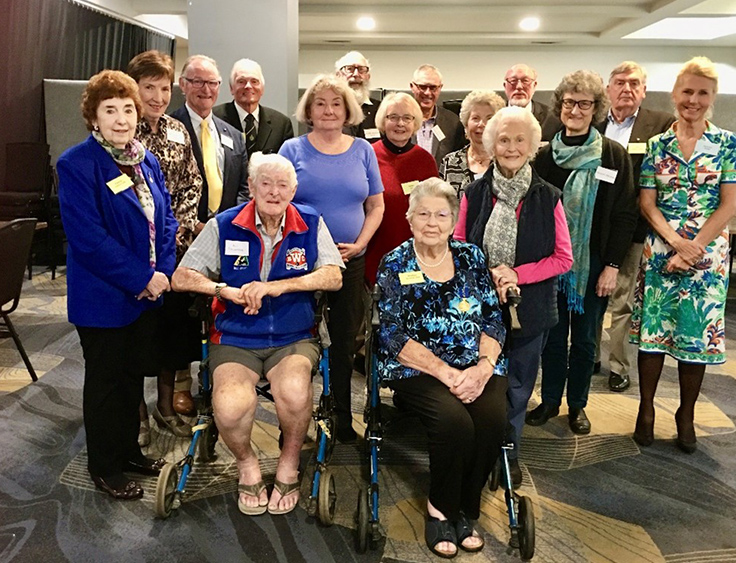 Attendees
Far left to right around back – Patricia Johnson OAM, Virginia Cox OAM, Grae
Cox, Laurie Smith OAM, Laurie Orchard OAM, Ian Campbell APM, Jim Mein AM,
John Ingram OAM.
Middle row – Sue Baker OAM (Blue top), Helen Ross OAM, Jan Ingram, Penny
Orchard.
Front row – Bill Secombe, Winifred Secombe OAM, Betty Boyd
---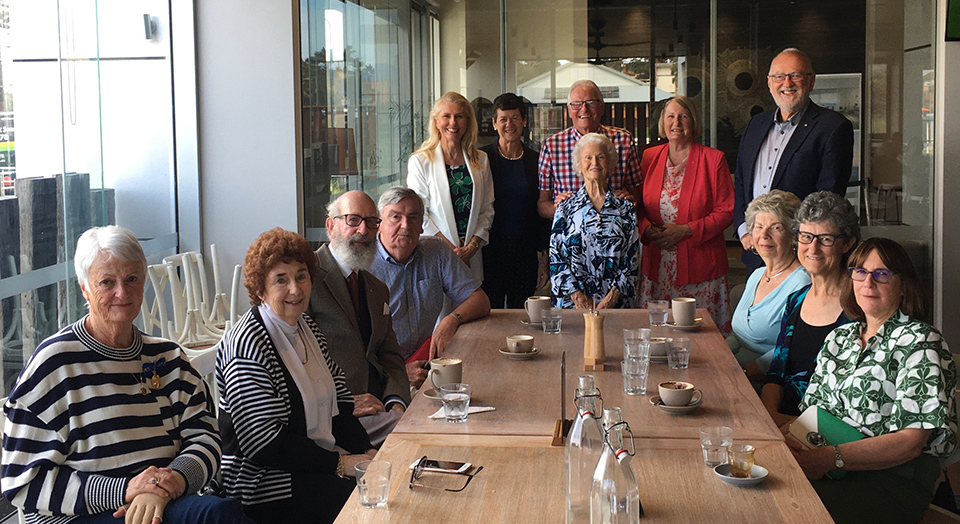 Members of the Hastings Macleay region of the Order of Australia Association held early October at the Port City Bowling Club
Members and guests are cordially invited to attend
THE ORDER OF AUSTRALIA ASSOCIATION NSW BRANCH INAUGURAL OPERA LUNCHEON 2022
with our special guest Operatic Artists
Gaetano Bonfante & Clarissa Spata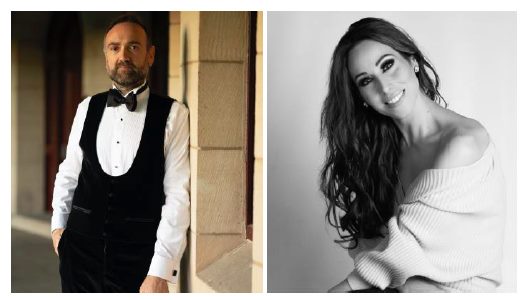 Gaetano Bonfante is a Sydney born tenor who has been on the classical concert stage for many years.
He has performed in 15 productions for Opera Australia, toured La Traviata (as Alfredo) to 18 Cities in China, represented Australia in the international iSing opera program in China, performed as a special guest with the Arma Dei Carabinieri Band in Piazza San Marco Venice, and written and performed various cabaret shows on many prestigious cruise ships around the world. As a teller of stories and a singer of song, Gaetano takes his audience to the depth of their hearts, through his rich tenor voice and a strong passion for the music he loves.
Clarissa Spata is a multi-award winning and versatile Soprano. A principal with Opera Australia, she has performed the roles of Frasquita in the National tour of Carmen, Papagena in the National tour of The Magic Flute, Musetta (cover) in La Bohème on Sydney Harbour and has performed principal roles in six Opera Australia's school tours. Internationally she has toured China with Australian International Productions as First Lady in Die Zauberflöte, The High Priestess in Aïda and lead in the "Highlights of
Musical Theatre" tour as principal soprano. Clarissa toured as lead soprano in 'An Afternoon at The Proms Spectacular' and toured nationally and internationally with The 7 Sopranos.
Saturday 17th September 2022 at 12.30pm
In the Cellos Grand Dining Room at the Castlereagh Boutique Hotel, 169 Castlereagh St, Sydney.
A drink on arrival will be followed by a seated 2 course luncheon. The bar will be open to purchase other drinks.
Cost for Members and Guests – $110.00 pp. (Inc. GST)
Dress: Lounge Suit / Cocktail Dress with Decorations (Full size medals)
RSVP ESSENTIAL: No later than 10th September 2022
Please reserve your ticket(s) only via this link: www.stickytickets.com.au/mhcov
OFFICIAL CONFIRMATION AND ENTRY TICKETS WILL BE EMAILED VIA STICKY TICKETS.
There is no parking at The Castlereagh Boutique Hotel. Nearby parking stations include
Sydney Hilton Hotel – Secure Parking at 259 Pitt Street, Sydney and Piccadilly Car Park – Secure Parking at 137 Castlereagh Street, Sydney.
For further enquires please phone Dr John Gullotta AM, Events Manager on 0418 233 069
HUNTER REGION
JULY LUNCHEON
Over 90 awardees attended the July Luncheon at the Wallsend Diggers Club and welcomed the new awardees for the Hunter Region.  The luncheon was a huge success with many people attending with guests and family.  The guest speaker was Hilton Grugeon AM.
The attendees travelled from far and wide throughout the Hunter region and many managed to catch up with friends they had not seen for a while and many new friends were made.
NORTHERN BEACHES REGIONAL INAUGURAL LUNCHEON
The Northern Beaches Regional Inaugural luncheon was held at the Manly Club on 30 July 2022 to begin a new chapter in the regional areas of NSW for the New South Wales Order of Australia Association.  Over 30 members and new awardees attended the luncheon at the Manly Club and were warmly welcomed by Mr Jim Mein AM Chairman of the NSW Branch, Dr John Gullotta AM Deputy Chairman and Romano Di Donato OAM committee member, Mrs Gail Dunne OAM NSW Treasurer and Chris Dunne OAM.
The idea of holding a luncheon for a Sydney Region of the NSW Branch was first developed by Mrs Gail Dunne OAM. Contacting many Northern Beaches members as possible to attend a local function within the Northern Beaches region.  She was heartened to hear from many people on the wonderful idea of holding a 'local' luncheon for members and new awardees within their own region. The Guest speaker for the day was Patricia Carroll OAM retired CEO SGSCC.
Of the attendees, there were 9 new awardees from the Queen's Birthday Honours 2022 list.  One new awardee Valerie Hoogstad AM, For Services to not-for-profit sector and Tertiary Education, unfortunately is not in the accompanying photograph.
The luncheon was a wonderful success and it will be followed up with a Christmas function in December.
NSW AGM
Photographs of the AGM can be viewed through this link:
HASTINGS/MACLEAY BRANCH
A small group of our members enjoyed a Christmas Coffee session at our local club.
Clarence Richmond Region
Alstonville Luncheon
The Clarence -Richmond Region event was their first in four years and our first regional function since COVID restrictions have been relaxed. A successful return and I was asked to preside over their committee elections, the results being Graham Gooding was confirmed as their convenor and he has a committee of four to support him.
Barry Nash OAM was their guest speaker. A very interesting personal history beginning from the Island of Guernsey where his wife Trudie was also born. A Royal Navy man from age 12 wherein he served as telegraphist and many years on small ships such as minesweepers. They emigrated to Australia as ten-pound Poms and he served as Victorian policeman. On retirement, they moved to Ballina where they have an indelible impression on the locals with the RSL, Legacy and in many other ways.