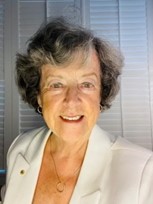 Trish Wetton OAM
Trish moved to Sydney from Melbourne with her husband and two children in 1976 and joined Inala Rudolf Steiner School in Cherrybrook as Administrator then CEO, completing a Grad Dip in Social Administration in 1981. Trish left Inala in 1996, to care her husband who passed away that year.
In 1996, Trish was invited to join Forsight Foundation for Deafblind Adults in North Rocks as CEO.  A major job goal was to train disability support workers in the Active Support of people with deafblindness, in community group home settings.  For the next decade, Trish studied as a mature aged student and in 2006 RIDBC announced in the media, "Patricia Wetton has a truly unusual qualification under her belt.  She recently completed the only course in NSW that provides training for teachers of students who are blind or vision impaired, deaf or hearing impaired- a Master of Special Education (Sensory Disability) degree.  Patricia studied at RIDBC's Renwick Centre and the University of Newcastle."
The highlight during 22 years as CEO of Forsight, was being invited to join a working group with NSW Ageing, Disability and Home Care in 2012 to consult with families of 35 adults with deafblindness who were transitioning from large residences to group home community living.  The outcome was seven new purpose-built sensory accessible group homes were completed by 2016.
An ongoing passion is to meet the unique needs of adults with deafblindness living in community group homes, or alone in the community, by getting others to recognise the isolation that results from combined sensory loss.  The current link between Deafblind International and Australia ensures information from around the world can be shared within Australia utilizing The Sensory Hub being set up by Deafblind Association NSW and Better Hearing Australia (Sydney) at Concord NSW.
Trish has been a Rotarian since 1999.  Carlingford club (1999-2022) and more recently St Ives club (2022 to present), holding President, Assistant Governor, and District Representative of Australian Rotary Health roles. A Paul Harris Fellow was awarded in 2007, and a District 9685 NSW/ACT Rotary Inspirational Woman's award was presented in 2013, for outstanding achievement in community service. Trish is also a member/friend of Beecroft Inner Wheel club.
On Australia Day in 2016 Trish received an OAM, for her work in disability, including her voluntary contribution to the community.
Voluntary Board/Committee positions currently held:
Deafblind Association NSW Inc (2018)
Better Hearing Australia (Sydney) Inc (2020).
Order of Australia Association NSW Committee member (2022).
Trish has two children, three grandchildren and after COViD 19 was blessed by the birth of two great-grand-children. Trish loves gardening, with her home providing a perfect haven for relaxation and family and friend get togethers.